Security Program and Strategy
Understand and manage evolving cyber threats with confidence.
Protiviti's cybersecurity strategy experts help organizations understand information security and privacy risks while providing creative solutions. We help our clients take a holistic business and technology view of their risk posture, and we use industry-accepted information security frameworks to evaluate current capabilities. To reduce exposures, we develop and refine security and privacy strategies, practices, and technology architectures.
Boards of directors and executives face challenges ranging from the speed of technology innovation and the dynamic regulatory landscape to evolving cyber threats, the security talent gap, and ever-changing economic expectations.
Protiviti can assess your unique environment and provide a roadmap so you can make smart cybersecurity strategy investments to serve your customers and grow your business.
Our Cybersecurity Strategy Services
Assess Cybersecurity Risks
Understand and prioritize cyber risks based on your unique risk landscape and cybersecurity maturity.
Assess Capabilities
Leverage industry frameworks and our depth of expertise to understand current capabilities and create a roadmap towards the target security posture.
Program Benchmarking, Strategy, and Governance
Assess your organization against industry benchmarks and design a go-forward structure.
Board Communication and Reporting
We provide support for meaningful cybersecurity strategy discussions with senior leadership and the board.
Cyber Program Office
Cybersecurity risks are never static. A successful cyber program office adapts accordingly. Our team serves as an on-demand "virtual CISO" providing hands-on support, transparency, and structure to respond to changing demands.
Make smart cybersecurity strategy investments
World-class security
A world-class security organization  is nimble, efficient, self-improving, adaptive, and effective. Protiviti helps you maintain your cybersecurity strategy to your specifications and remains aligned with your business objectives.
Make smart cybersecurity strategy investments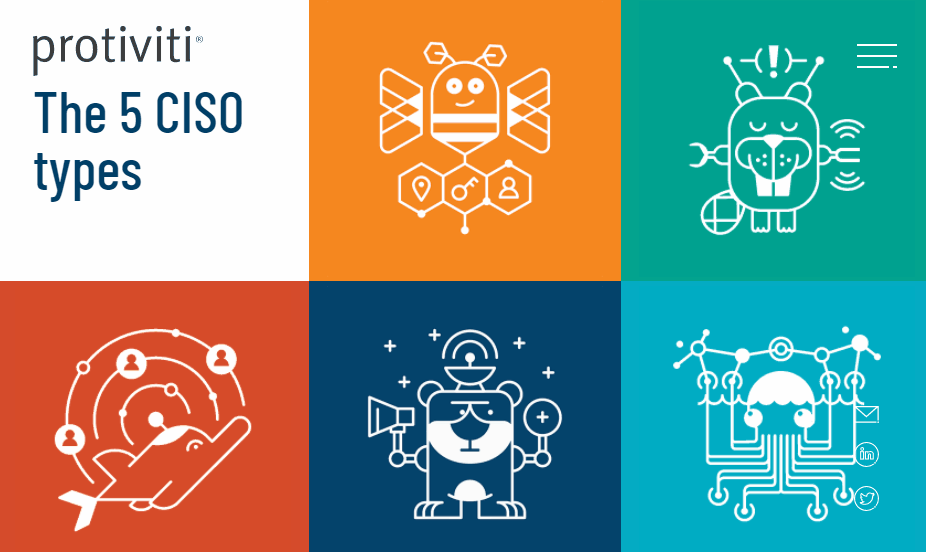 What is next for CISOs?
The CISO Next initiative produces content and events crafted exclusively for CISOs, with CISOs. The resources focus on what CISOs need to succeed. The first step is finding out "What CISO type are you?"
Get Involved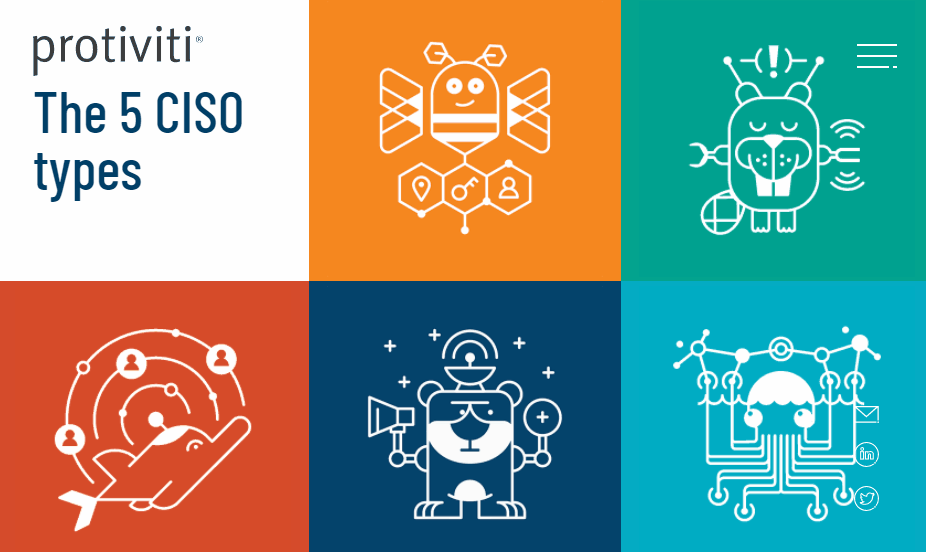 Case Studies
Situation: This international, not-for-profit healthcare provider operating over 60 hospitals and 350 clinics in four countries knew its high-priority business demands created issues with information security. Business leaders lost confidence in the organization's delivery quality and ability to protect its digital assets.
Value: ​A long-standing relationship with Protiviti yielded significant improvements in the client's cybersecurity capabilities, programme maturity, and risk mitigation. Critical outcomes included a 53% reduction in superfluous active directory (AD) groups and the standardization of AD management tool kits, a reduction in phishing campaign testing click-through and compromise failures from 15% to 7%, and a risk indicator reduction of an average of 80%.
Situation: The fast-track growth of an international financial services firm through numerous acquisitions led to security challenges.
Value:​ We improved the client's security posture through standardization of patching and remediation—implemented across the enterprise—gaining real-time status on the environment. We enhanced the visibility of cybersecurity and data privacy risks across key business units.
Situation: A leading corporation in the financial services and insurance industry acquired several companies without conducting robust due diligence, neglecting to identify cyber risks and to strategize seamless integration with the existing IT infrastructure.
Value: With enhanced cybersecurity metrics, the client increased its visibility of cybersecurity and data privacy risks to internal business partners for each targeted company acquisition. The client integrated enterprise security policies and standards into the vendor procurement process to mitigate third-party risks.
Situation: An international bank wanted to define and document its three-year cyber security strategy.
Value: The bank gained a digital visualization of the control blueprint, giving users a quick snapshot of threat analysis activity and the ability to gauge the necessary actions to further reduce risk.