Managed Security Services and Security Operations
Around-the-clock support to optimize your business sustainably
Companies have an urgent need to minimize the frequency and cost of data breaches. Cyber incidents are growing ever more likely, and costs are soaring. The current cybersecurity talent gap only adds to the challenges. Protiviti's managed security services puts the best people, processes, and technologies at your fingertips.
We understand the unique challenges of cybersecurity. The attack landscape is always changing. The sheer number of products and services to maintain is daunting and maintaining security services is often difficult. Our managed security services are innovative, highly flexible, and focused on the client. We are ideally suited to address the cybersecurity challenges of today's market.
Our cybersecurity professionals have helped secure environments across industries of all sizes. Our analysts venture into the unknown to proactively discover new cyber threats. We are prepared to address the challenges in your organization.
The Protiviti advantage
Protiviti's managed security services highly flexible methodology focuses on people, process, and technology to address these leading challenges.
Rapid deployment: Compared to the months required to acquire software, hire and train talent, and develop governance, process, and policies
Skilled and scalable teams: Scalable, contractual services that reduce complexity and increase access to deeply skilled resources, delivered at a predictable annual fee
Compliant processes: Optimized compliance activities to successfully achieve business strategies and objectives
State-of-the-art security frameworks and tools: Access to market leading analytics, metrics, and techniques to embed risk and compliance controls, allowing for better responses to dynamic business process changes, which are continually monitored, assuring correct controls exist to mitigate risk.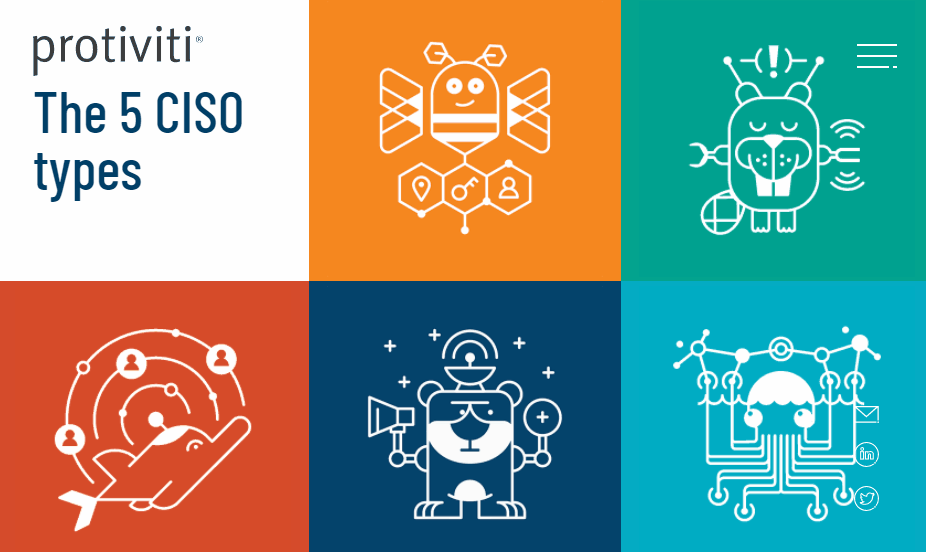 What is next for CISOs?
The CISO Next initiative produces content and events crafted exclusively for CISOs, with CISOs. The resources focus on what CISOs need to succeed. The first step is finding out "What CISO type are you?"
Get Involved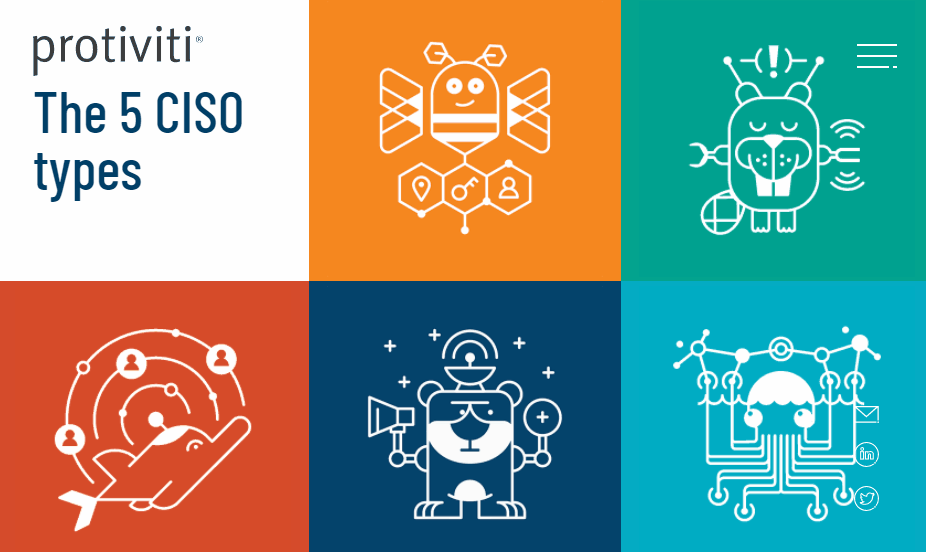 Case Studies
Situation: A national insurer discovered multiple vulnerabilities in its approach to third-party security risk management. The company lacked the maturing identity access and governance (IAG) processes and technology they needed to bring it into compliance with state cyber and privacy regulations in a highly complex environment.
Value: With Protiviti's guidance, a comprehensive third-party security risk management programme was quickly adopted, reducing risk. Hundreds of on-site vendor security assessments were delivered and NYDFS and CCPA compliance was met.
Situation: The information security team for a Global 100 financial services firm needed help with their vendor risk assessments across many different service types. The company also had a backlog of more than 40 assessments that a prior partner had been unable to perform.
Value: ​Protiviti completed the unfinished risk assessments, and drove consistency, integrity, and data normalisation in vendor risk management processes.
Situation: A global technology company needed an experienced and trusted outside resource to provide user-support managed services for its IT engineering department.
Value: By running the client's engineering operations 24/7, with improved support year over year, Protiviti drove down costs and increased the client's throughput. The client gained line-of-sight recommendations for improving its engineering operations.
Situation: The country's largest golf course management firm had recently transitioned from Oracle EBS to Oracle Cloud and struggled with project management, security, and internal workflow capabilities.
Value: Using Protiviti's custom roles approach, the client was able to better comprehend what access would be granted when assigning roles to users. They also greatly decreased the risk posed by segregation of duties and sensitive access. HCM implementation was more efficient and effective and the company replaced manual approvals with more efficient and accurate workflow actions.