Podcast | Select and Implement the Right Tech Tool for Your Finance Group – with Shelly Kalladanthyil and Nick McKeehan
One of the most significant decisions a CFO faces is selecting the right technology or tool to help them run the finance organization and deliver expected results and value for the business. But technology selection is only the first step. There also is implementation, a just as important stage that can make or break the success of the technology and its effectiveness in the eyes of stakeholders throughout the organization.
In this podcast, we chat with Protiviti Managing Directors Shelly Kalladanthyil and Nick McKeehan about finance technology tool selection and implementation, including whether it's time to move to the cloud. Shelly and Nick are leaders in Protiviti's Business Performance Improvement and Finance Transformation practices.
Among the key points they make: It's not just about choosing a technology and putting it into place. Selecting the right finance technology tool requires significant due diligence as well as contributors from throughout the organization to make it a true success for the business.
For more information, visit the Finance Technology & Data page on the Protiviti website: www.protiviti.com/us-en/finance-technology-data.
Contact Shelly at [email protected].
Contact Nick at [email protected].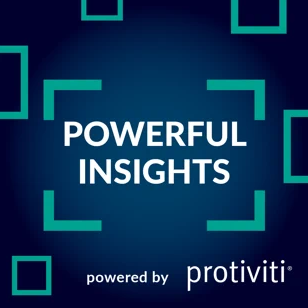 Powerful Insights on Apple Podcasts
Protiviti presents Powerful Insights. This podcast features leaders and subject-matter experts from around the world offering insights on key issues facing organizations in our dynamic, challenging and competitive global business climate.