Podcast | Financial Inclusion and Its Impact – with Alyse Mauro Mason, Tracie Anderson and Shelley Metz-Galloway
In this episode, hosted by Protiviti Associate Director Alyse Mauro Mason, we focus on financial inclusion, defining financial inclusion and its impact, what it means for your business, and how to manage the risk of more inclusive credit and lending practices.
Alyse's guests are Tracie Anderson of TransUnion and Shelley Metz-Galloway of Protiviti.
Tracie is Principal, Economic Inclusion Strategy, U.S. Markets at TransUnion. She leads the development and execution of strategies to fulfill TransUnion's ongoing commitment to advance financial inclusion. In her role as principal in U.S. markets, Tracie collaborates with stakeholders internally and externally to cultivate commercial and community relationships focused on driving sustainable financial returns and social good by expanding opportunities with underserved consumers. These opportunities create inclusive and equitable pathways where more consumers can successfully use financial services and products to enhance their quality of life.
Shelley is a managing director and U.S. regulatory compliance lead with Protiviti. She has more than 30 years in the financial services industry and offers expertise in consumer regulatory compliance, enforcement, action response and remediation compliance, and fair lending and UDAAP risk assessments, as well as compliance management systems, program development, business performance and risk analytics, strategic planning, and process reengineering. As a leader of Protiviti's Multicultural, ESG and Racial Equity Advisory Council, Shelley also conducts audits for clients interested in assessing their diversity, equity and inclusion program effectiveness and remediating DEI gaps.
Tracie and Shelley join this podcast in their personal capacity to share their experience, expertise and insights with us.
Contact Alyse at [email protected].
Contact Tracie at www.linkedin.com/in/tracie-anderson-b77b204/.
Contact Shelley at [email protected].
For more information on this and other ESG topics, visit Protiviti.com/ESG.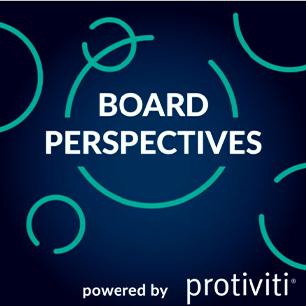 Board Perspectives on Apple Podcasts
Board Perspectives, from global consulting firm Protiviti, explores numerous challenges and areas of interest for boards of directors around the world. From environmental, social and governance (ESG) matters to fulfilling the board's vital risk oversight mandate, Board Perspectives provides practical insights and guidance for new and experienced board members alike. Episodes feature informative discussions with leaders and experts from Protiviti and other highly regarded organisations.
Subscribe