Cloud Security
Secure your Cloud environment to accelerate growth and drive ROI
The move to the cloud is well underway. Are you on board?
Protiviti's cloud security expertise enables organisations to grow their business without sacrificing operational efficiency. Our cloud security-certified experts assist and implement enterprise strategies that support regulatory compliance efforts and business operations.
The landscape of cloud security solutions needed to keep organisations safe and secure is rapidly evolving. It's more important than ever to integrate security practices into cloud solutions before, during, and after migrating to the cloud.
To do this, organisations must identify and manage cloud security risks while strengthening capabilities. At the same time, cloud services providers must expand native and third-party security services to meet the demands of digital transformation and cost optimisation.
Our experience in cutting-edge cloud security methodologies such as zero trust architecture and secure design patterns enable a streamlined, efficient approach to securing public, private, and hybrid cloud environments.
Our Cloud Security capabilities
Advisory and Governance
Leverage the tools and guidance needed to be "cloud ready," including compliance requirements, user privacy provisions, cloud security assessments, ransomware and penetration testing , and security tool rationalisations.
Strategy
Applying a cloud security strategy and governance program support framework enables you to effectively identify security gaps and establish road maps to remediate them.
Architecture and Transformation
Cloud implementation and design revolve around cloud security methodologies such as DevSecOps, zero trust architecture, and native cloud tool design implementation. Adopt and leverage strategies that prepare you for future changes and threats.
Managed Cloud Security
After initial implementation , Protiviti builds a cloud security platform that provides security insight monitoring, management, and mitigation of vulnerabilities, while meeting the evolving needs of industry-wide cloud compliance .
Our Cloud Security approach
Protiviti's approach to cloud security starts and ends with leading practices and secure cloud design. We see our clients as business leaders first, and apply our cloud security capabilities with business risk, growth, and sustainability at the forefront. By leveraging our cloud security reference architecture, we help you achieve business growth, operational efficiency, enterprise management, and regulatory compliance.
Our cloud security reference architecture includes the building blocks of an effective cloud security program.
Why Cloud Security matters
Now, more than ever, cloud security must be integrated with cloud design and implementation for optimal performance and reliability.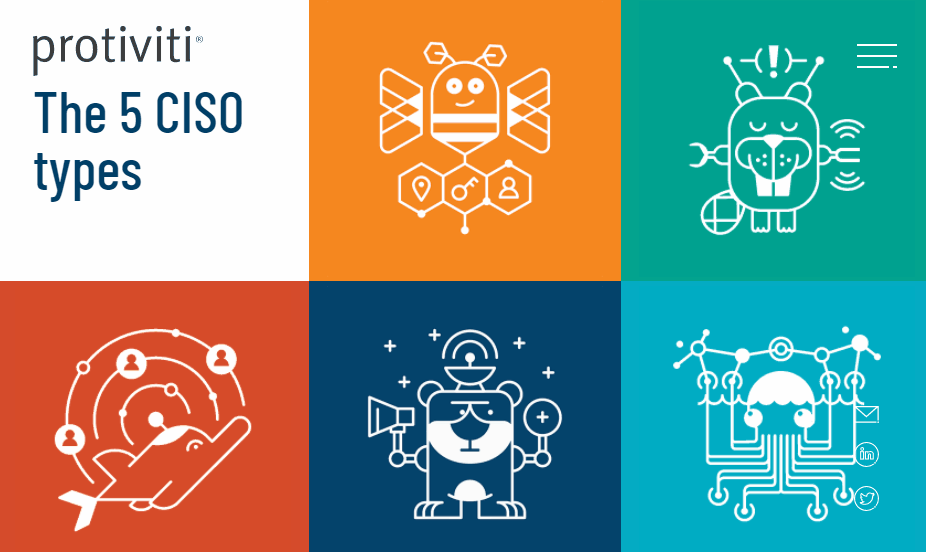 What is next for CISOs?
Protiviti's CISO Next initiative produces content and events crafted exclusively for CISOs, with CISOs. The resources focus on what CISOs need to succeed. The first step is finding out "What CISO type are you?"
Get Involved