Digital Identity
Improving time-to-value and lowering risk
Identity and access management is both a business process and technology problem. Organisations require teams with expertise in identity-related business processes and technical knowledge of identity systems. The presence of both will result in successful identity and access management programs.
We provide Identity and Access Management (IAM) services including strategy, system selection and integration and program management.
We approach IAM from a risk management perspective, instead of a technology-first method.
Identity is the common security denominator. An organisation will be able to effectively secure an enterprise in a cloud and mobile world by placing identity at the center of a security framework (e.g., zero trust). Knowing the user is crucial—otherwise, no other system access control or security matters.
Our Identity and access management services
Directory Services
Identity directory services—on-premise or in the cloud —are the cornerstone of an identity and access management program. Develop a solid directory structure to enforce least privilege security and reduce authentication friction.
Access Management Implementation
Establish secure, seamless sign-in and adaptive authentication using multiple factors, while providing a frictionless experience for end users.
Enhanced security increases your ability to respond to new threats
Our Digital Identity approach
Protiviti supports your cybersecurity needs with our digital-centric identity and access management approach. We integrate a digital identity infrastructure across your cybersecurity environment to create a more secure, consistent, and reliable identity environment. This enhanced security increases your adaptivity and responsiveness to next-generation threats.
Enhanced security increases your ability to respond to new threats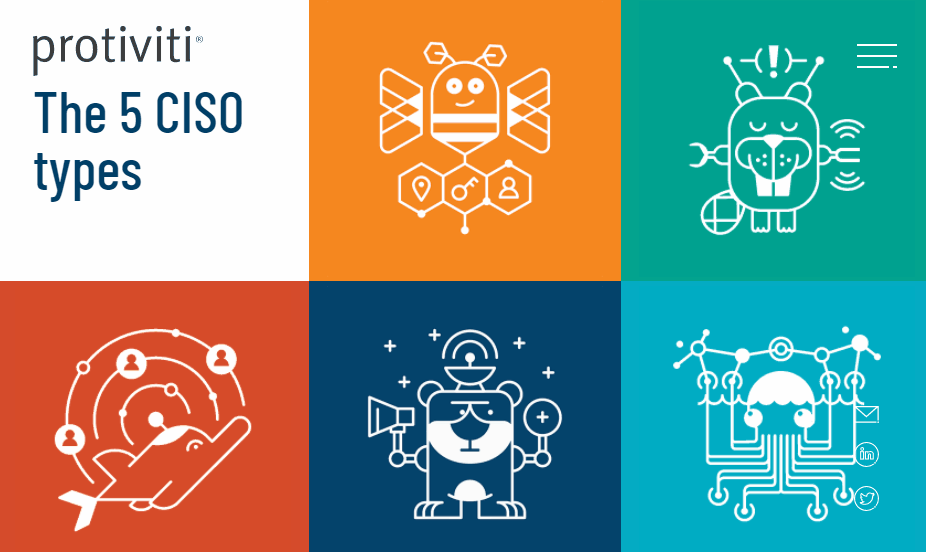 What is next for CISOs?
The CISO Next initiative produces content and events crafted exclusively for CISOs, with CISOs. The resources focus on what CISOs need to succeed. The first step is finding out "What CISO type are you?"
Get Involved
Case Studies
Identity and access management programs continue to struggle—more than 20 years after the industry's inception. After reviewing this top 10 list of pitfalls, you may recognise these findings, including some that call for continuous monitoring to proactively mitigate cyber risks.
In spite of over 20 years of experience as an industry, Identity & Access Management (IAM) programs continue to struggle — and with good reason. There is a lot that can go wrong with an IAM program.
Lack of funding, treating IAM like a project and not a program, not having business buy-in, and trying to overly customise packaged software are all examples of significant challenges that can impact the ability for an IAM program to be successful. That's where this e-book comes in. The team at Protiviti has decades of real world, hands-on experience not only doing IAM, but doing IAM well. As a team, we collectively work with dozens of clients per year and have seen some commonalities for struggling IAM programs. In putting together this top ten list, you may recognise some that apply to you and some that you may want to keep an eye out for so you can proactively plan against those risks.
Situation: The U.S. government needed outside expertise to establish a government-wide identity credentialing capability standard.
Value: Protiviti helped implement a government-wide identity credentialing capability and standard for vetting identity and access management solutions. The effort met the President's agenda to establish a means for authenticating users. The policy and governance were extended to the federal government's public key infrastructure.
Learn the essentials to successfully plan and implement an effective identity management strategy.
Identity management doesn't happen overnight; there's no "Easy" button to press, or magic snap-of-the-fingers instant fix. In fact, identity management has transformed into something far more complex than password authentication and simple security measures. It's important to understand that jumping into a new technology instantaneously isn't necessarily the right first step to ensuring a successful program.
Getting the keys to the kingdom has become harder than ever before. To do it the right way, you need an appropriate foundation in place for decision-making. This includes prioritising projects that will roll-up into an identity management, or IAM, program.
Solving complex identity and access management issues for an organisation often requires finesse, collaboration and the ability to creatively meet the needs of all aspects of the business with a single solution. One global biopharmaceutical company discovered the power of collaboration as it worked to replace an existing access management implementation, harmonising two distinct populations(enterprise and manufacturing) representing 47,000 users.
The company knew it needed to replace its single sign-on (SSO) solution, as its existing technology was neither flexible nor strong enough for the organisation's complex network of relationships and environments. Although each of the work groups presented its own unique challenges, the manufacturing team's needs were considerably more complex.