Podcast | ESG and Diversity, Equity, Inclusion and Belonging – with Andaye Hill-Espinoza and Alfredo Mendez
A core component of the ESG programme in any organisation is diversity, equity and inclusion. Different organisations take different approaches to DEI, or DEIB. There is no one way to be a leader. But what does matter is consistency and commitment, particularly the concepts around diversity, equity, inclusion and belonging, and how they continue to evolve. Such a commitment is especially vital given the ongoing war for talent and the need to attract and retain people to your organisation.
In this episode, we talk with Andaye Hill-Espinoza and Alfredo Mendez, two leaders in our enterprise who offer some highly informative insights on DEIB and how board members and executives need to understand its long-term value.
Andaye is an associate director with Protiviti and a leader in the firm's ESG Center of Excellence and DEI programmes. Alf is vice president, DEI and community for Robert Half, parent company of Protiviti.
For more information on Protiviti's ESG and Sustainability programmes, visit Protiviti.com/ESG.
Contact Andaye at [email protected].
Contact Alf at [email protected].
For more board-focused thought leadership from Protiviti, visit www.protiviti.com/ch-en/board-leadership-collection.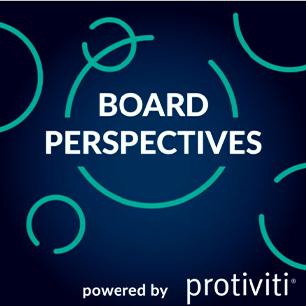 Board Perspectives on Apple Podcasts
Board Perspectives, from global consulting firm Protiviti, explores numerous challenges and areas of interest for boards of directors around the world. From environmental, social and governance (ESG) matters to fulfilling the board's vital risk oversight mandate, Board Perspectives provides practical insights and guidance for new and experienced board members alike. Episodes feature informative discussions with leaders and experts from Protiviti and other highly regarded organisations.
Subscribe