Podcast | Achieving Digital Maturity in Finance – with Chelsea Black and Kizzy Gift
In this episode, we discuss digital maturity in finance. Or more specifically, how more finance organisations are employing ERP systems, moving to cloud-based systems, transitioning more to analytics, and with that, understanding the talent management and risk management needs that are required with these major changes.
Sharing their insights on these issues are two Protiviti experts, Chelsea Black and Kizzy Gift.
Kizzy is a Director in the Business Performance Improvement practice. Kizzy specialises in finance transformation and change management within the BPI solution at Protiviti. She works with global clients on finance and operational process improvement, project management and change management. Kizzy has over 15 years of financial services knowledge as well as other industries including manufacturing, HR, healthcare and insurance.
Chelsea is a Director at Protiviti and has spent the last eight years in the Business Performance Improvement practice. With more than 12 years of professional experience, Chelsea partners with clients to improve overall operations focusing on organisational, process and technology enhancements. She is a subject-matter expert in shared services as well as project and change management in the finance transformation space.
Contact Chelsea at [email protected].
Contact Kizzy at [email protected].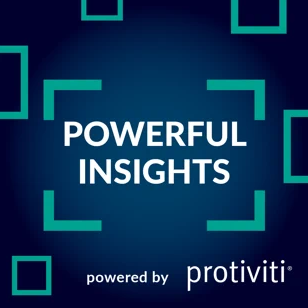 Powerful Insights on Apple Podcasts
Protiviti presents Powerful Insights. This podcast features leaders and subject-matter experts from around the world offering insights on key issues facing organisations in our dynamic, challenging and competitive global business climate.
Subscribe