Experienced Professionals
Developing your career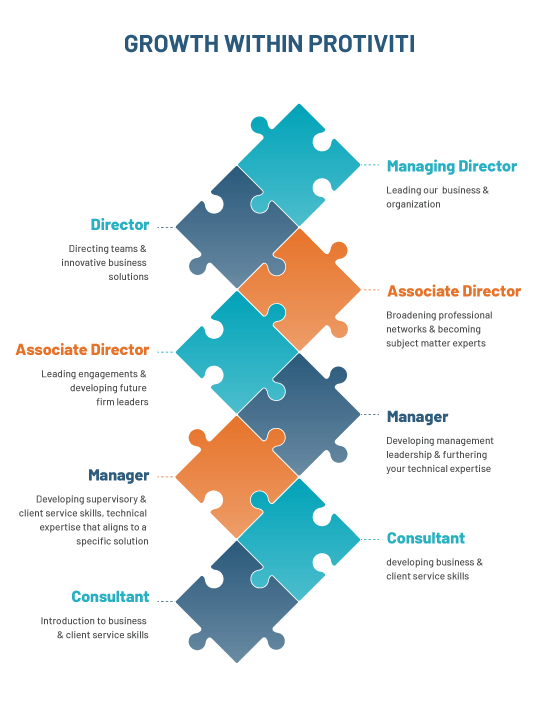 At Protiviti, we help you realise your potential and bring your career goals to life through a blend of meaningful work experiences and coaching, world-class learning, growth opportunities, and leadership development at every level.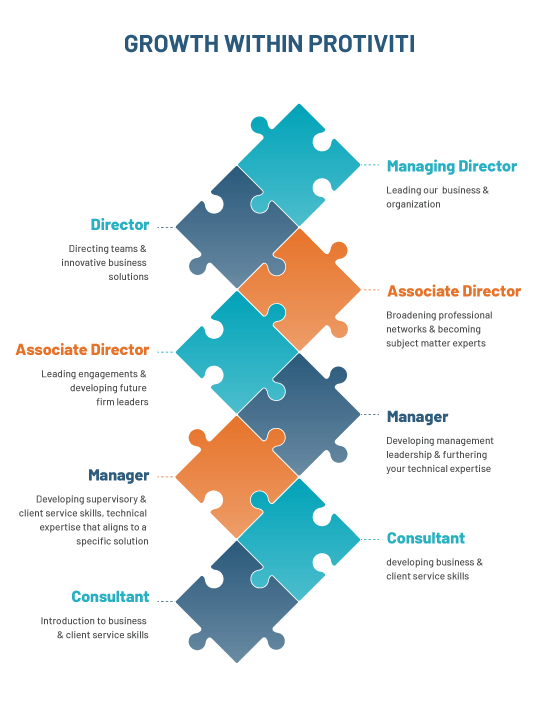 Experiences
The way we do business is constantly changing throughout the world. Every client and project provides new experiences that propel you further into your career journey. Hands-on training through project work is irreplaceable, and as part of a project team, you will strive alongside inspiring colleagues, capable managers, and subject-matter experts who serve as everyday collaborators.
Learning
Learn functional and cross-functional skills from our always-on, anytime self-led learning offered globally through Percipio and Protiviti University. You have access to thousands of formal, self-led courses. You also have access to thousands of additional information learning tools, such as books and videos that will help you turn your passion into a career.
Immersive programmes
Passport to Protiviti
Transition your career successfully with Passport to Protiviti, our world-class on-boarding programme that sets you up for success in your first day, month, and year with the firm.
Challenge Schools
Continue with Challenge School programmes offered at all career levels. Developed and taught by our professional network of colleagues, Challenge Schools enable you to focus on building proficiency through real-world scenarios. These immersive training programmes are tailored to your particular level in our career model. Challenge School programmes provide a unique opportunity to come together as a global workforce to share knowledge and connect as a team.
Virtual and online learning
Virtual and Online Learning Turn your passion into a career that makes a difference, in a place where you belong.
Advisor programme
Protiviti's Advisor Programme is a comprehensive support, mentoring and coaching programme. You will have the opportunity to learn from colleagues who function as your "Personal Board of Directors." You will have a support system to guide you through possible challenges and celebrate with you when you achieve success.
External learning
Further enhance your career through external learning opportunities, including professional certification courses, conferences, networking events and more. Additionally, office communities host localised trainings and lunch-and-learn sessions covering a range of topics.
Development opportunities
Protiviti provides several developmental opportunities for our employees, including:
Protiviti iNN Innovation Site Residencies: In-house incubators and accelerators of ideas and next-generation solutions for clients and the firm.
LEAD Series: Leadership Development Programme to foster ideas and support leadership skills development.
Global Mobility: Ability to have a global experience through career moves and networking within a global organisation.
Amplify DEI (Diversity, Equity, Inclusion) Sponsorship Programme: Supporting diversity, equity and inclusion within our workforce and communities.
Growth
As you continue your career, Protiviti is a place where you can learn and grow. With every promotion to a new career level, your abilities and impact grow, too. But you can also experience growth by diversifying your skills and knowledge across solutions and industries, pursuing lateral career moves that open up new options down the road, and engaging in firm initiatives that give back to our global team and to the communities where we live and work.
We often emphasise the "milestones" – moments in time where a specific accomplishment is recognised.  But in truth, career growth is ongoing, and it happens every day, if only you look for it.
Integrity
Integrity means committing to do the right thing in all situations. This includes our relationships with our clients and with our colleagues, the way we ethically steward our company, and the ways in which we contribute to our communities. Discover how Protiviti demonstrates this core value, every day.
Inclusion
Inclusion means creating an equitable work environment where everyone can flourish. We succeed through teamwork, diversity and respect for each other. Discover how Protiviti demonstrates this core value, every day.
Innovation
Innovation means we expect, value and deliver new ideas and approaches. We use a highly collaborative approach and the latest in tools and techniques to provide innovative solutions to our clients. Discover how Protiviti demonstrates this core value, every day.
Commitment to success
We empower our people to drive the success of our clients and colleagues and to better our communities. We also celebrate our people's individual and team successes as together we deliver excellence and make a positive impact on the world around us.